Principal's Message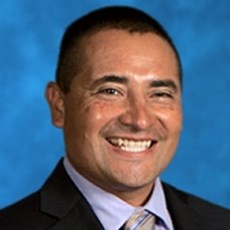 Welcome to Monroe Elementary Language Academy!
On behalf of the entire staff at Monroe Elementary Language Academy, it is my pleasure to welcome you to our website! The primary purpose of this site is to showcase our wonderful school and to share up-to-the-minute news about what's happening at Monroe. I am very excited to start my sixth year as Principal within Garden Grove Unified School District – second at Monroe Elementary Language Academy. It is truly a privilege to be part of such a dynamic and unique education environment. Our amazing staff was recruited especially for our school to implement the Dual Language Immersion Program and to provide an exciting place for student learning. Our entire staff will strive to make sure all our students receive a quality education, which will prepare them with the skills necessary to be successful in the 21st century. We are also committed to working together as a staff and as a community to ensure all children have a positive experience at Monroe.
And speaking of working together, be sure to always be a participant in your child's education. Research shows clearly that student success in school goes hand in hand with parent participation in the education process. Being actively involved does not mean that you have to volunteer in the classroom every day or be the PTA President. Active and effective parent involvement also includes:
Conscientiously reading all of the information that is sent home from school.
Always responding to notes and phone calls from the teacher.
Talking to your child each day about their school experience.
Attending parent conferences, Back-to-School Night, and Open House.
Providing appropriate homework support.
Sending your child to school well rested, well nourished, and on time each day.
Visiting the school website on a regular basis.
Your ongoing participation and support will go a long way in helping your child achieve success in elementary school and beyond. Our staff is committed to providing a safe and challenging learning environment for all of our students. To accomplish this goal we need the continued support and cooperation of our parent community. We look forward to working closely with you in this endeavor!
I hope you enjoy your journey through our website, and I encourage you to bookmark it for return visits in the future. In addition, I have an "open door" policy and I encourage you to stop by and visit our wonderful school.
Sincerely,
Cesar Loya, Principal